EMA DATSHI | BHUTAN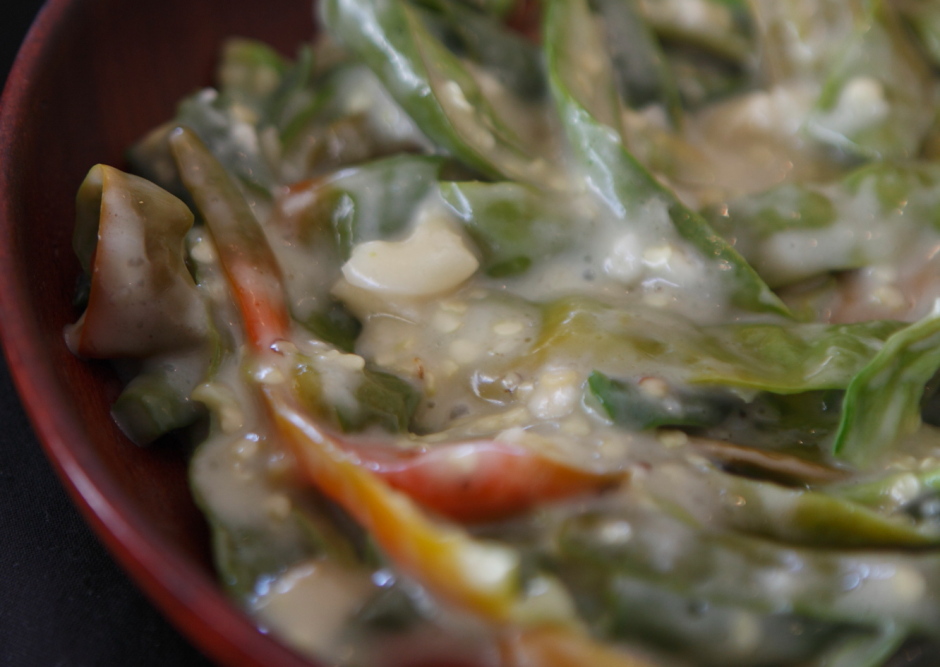 Our favourite dish in Bhutan, Ema datshi is a spicy, cheesy bit of goodness. This is the kingdom's national dish and you can easily make it at home, even with local ingredients. The chillies in Bhutan do give great heat, but you can easily mix some dried red chillies (re-hydrated), combined with green chillies.
Feel free to adjust the types of chilies you use based on your heat tolerance. The dish is normally made using yak cheese but you can replace this using cheddar and edam, our preferred combination, or any mix of your choice.
Best served on Bhutanese Red Rice or Vermicelli.
Ingredients
• 8–10 green or red chillies (we like a mix of both)
• 1 sliced onion
• 1/2 sliced tomato
• 5 garlic cloves, sliced
• 3 tbsp oil
• 100gm of cheese (we like a combination of cheddar and edam)
• 1 tbsp of salt to taste
• 1 cup water to cook
Preparation
• Cut the chillies in quarters lengthwise and remove the seeds, depending on how spicy you would like the dish to be. More seeds = more heat.
• Slice the onions and garlic, and dice the tomatoes.
• Add the chillies into a small pot, followed by the onions, garlic and tomatoes, and then the cheese on top.
• Add water, oil and salt.
• Turn on the heat, cover the pot with the lid and cook for 3–5 minutes with the high flame.
• After about 3–5 minutes, turn off the heat, give it a stir, and it's ready to serve.
RIGATONI alla NORCINA | UMBRIA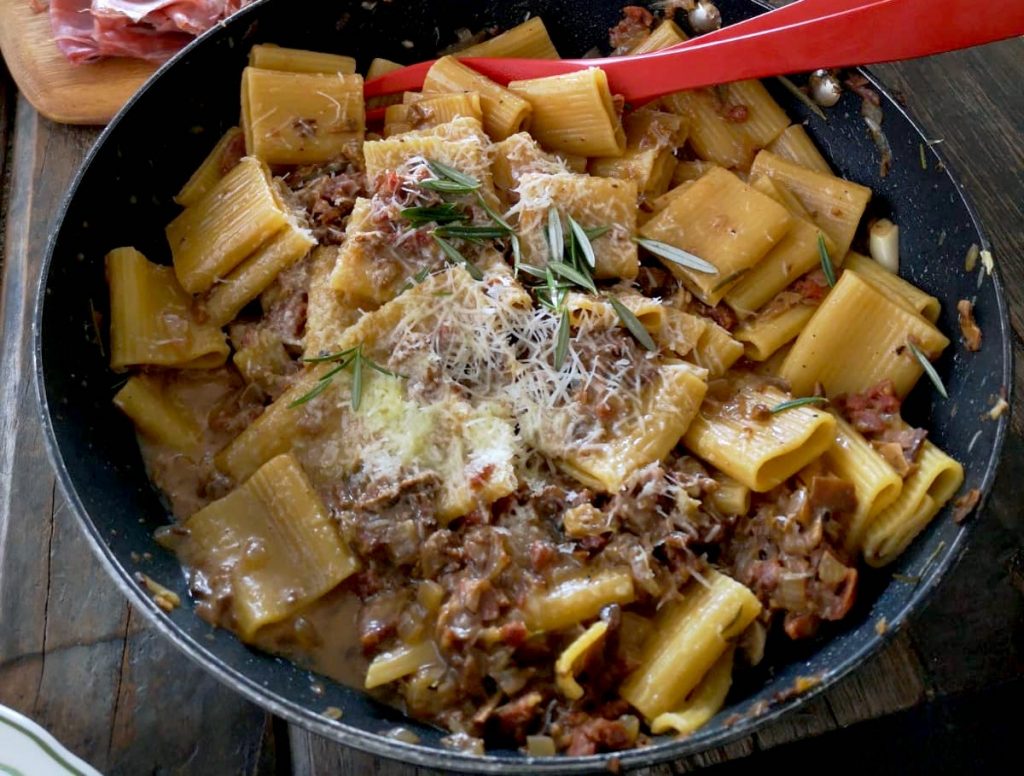 Known as the "green heart" of Italy, Umbria has begun winning the hearts of travellers over the sometimes busier Tuscany. With beautiful hill towns, olive groves, vineyards and historic basilicas, the region boasts the unique Italian romance that has us all enchanted. Not to mention its most coveted mushroom—the truffle. Norcia, a lively festival celebrating the coveted truffle. In a town known for its gastronomy, stalls are set up, exhibitions, folklore performances are put on to showcase local produce all the while inducing spring time gaiety. Find prosciutto pyramids, salami and other cured meats alongside the pure forms of the beloved mushroom.
This comforting pasta, Rigatoni alla Norcina, is a typical dish from Umbria, and in particular Norcia, famous for its sausage, cured meats and mushrooms. Norcia is famed for its pork products, which are known to be some of the best in Italy. This is an easy dish with very simple ingredients. It's usually made with a cream base, however we prefer it slightly lighter, using just butter and a whole lot of pecorino!
Ingredients (Served 3-4)
• 3 tbsp of extra virgin olive oil
• 2-3 whole garlic cloves
• ½ white onion diced
• 20g of dried porcini mushrooms
• 300g of Italian pork sausage (crumbled)
• 150ml of dry white wine
• 350g of rigatoni
• grated nutmeg
• 50g of grated pecorino
• unsalted butter
• salt and pepper to taste
• black truffles or truffle oil (whichever is available)
Preparation
• Re-hydrate the porcini mushrooms in boiling water and let rest for 20 mins
• Bring a large pot of water to a boil for the pasta, adding salt.
• Peel and chop the onion finely.
• Remove the casing from the sausages and crumble the meat filling. Peel and chop the onion finely.
• While the water is boiling, heat the oil in a large skillet over a medium heat. Add the garlic to flavour the oil, before adding the onion and cook until it starts to soften then add the crumbled sausage meat.
• After the sausage starts to brown, remove the garlic and add the porcini mushrooms.
• Pour in the white wine (Don't forget a glass for yourself while cooking!). Allow the wine to reduce on low heat. Lower the heat, cover, and finish cooking the sausage in its own juices for 10 minutes. Cover the pan.
• Start cooking the Rigatoni, which should take 10 mins until al dente.
• After 10 mins, Remove cover, Add some nutmeg, salt and pepper to taste.
• Once the Rigatoni is ready, drain and add to pan to finish cooking. Do save some pasta water as well.
• Add in the butter and grated pecorino and mix well. Add in the pasta water if the sauce gets too thick and toss.
• Serve immediately with a generous amount of grated pecorino, some freshly ground black pepper and truffle shavings.
JACKFRUIT CURRY with RICE | SRI LANKA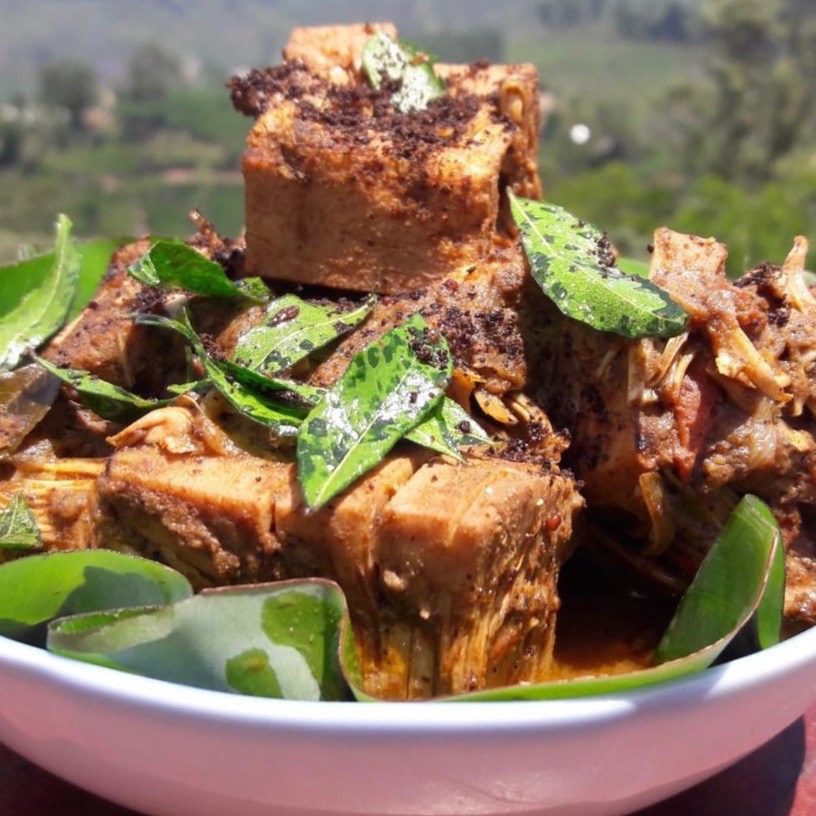 The Pearl of the Indian, Sri Lanka is place we love to return every year, for its stunning beaches, lush forest, friendly people and for its incredible food. Many compare Sri Lankan food to Indian food, which are similar to a certain extent, there's a distinctive Sri Lankan element to each of their dishes. Making use of fresh local fruit and vegetables, such as coconut, jackfruit, beetroot, seafood and an arsenal of spices, Sri Lankan cooking delivers an abundance of incredibly tasty dishes.
This Jackfruit Curry is a comforting dish, vegan and pairs perfectly with rice. The bright and colourful recipe is packed with flavour and it's low in calories too. The jackfruit adds a sweet, fruity element to this creamy Sri Lankan curry. It's made with coconut milk, aromatic curry leaves, cinnamon and cardamom, and served with nutty brown basmati rice.
Ingredients
• 500g young Jackfruit
• 1 onion, diced
• 2 green chillies, chopped
• 2 tsp garlic, diced
• 2 tsp ginger, sliced
• 1 sprig of curry leaves
• 2 tsp chilli powder
• 1 tsp turmeric powder
• 3 tsp curry powder
• 4 cardamom
• 4 cloves
• 2 inch piece of cinnamon
• 3 pieces of tamarind
• 2 cup fresh coconut milk
• salt to taste
Preparation
• Fry the onions, green chillies, ginger, garlic, and curry leaves in about 2 tbsp of oil till golden brown.
• Add all the spices, fry for one minute or until fragrant.
Add the rest of ingredients, except coconut milk, stir to coat.
• Add salt.
Transfer the mixture to a slow cooker, add coconut milk.
• Stir and cook on low heat for at least 2 to 3 hours. The curry will turn a dark brown colour when done.
• Serve hot and with rice.
* You can cook this also in a pressure cooker. Cook for about 20-25 minutes.